I have to share my new obsession with you: pure Organic Coconut Oil.
I bought a big jar of the stuff after reading about its many benefits as a beauty product, so wanted to try it out on my skin and hair. I have to say that my son and I often suffer from dry skin and eczema, and have been recommended various creams from doctors and pharmacists in the past, which often contain nasty steroids and chemicals. Well none of them have been as effective as this! OK I know it sounds a bit like I'm sponsored by coconuts here, but it's true! What I wasn't entirely aware of when I bought my first jar, is the range of health benefits it has also has when you eat or cook with it.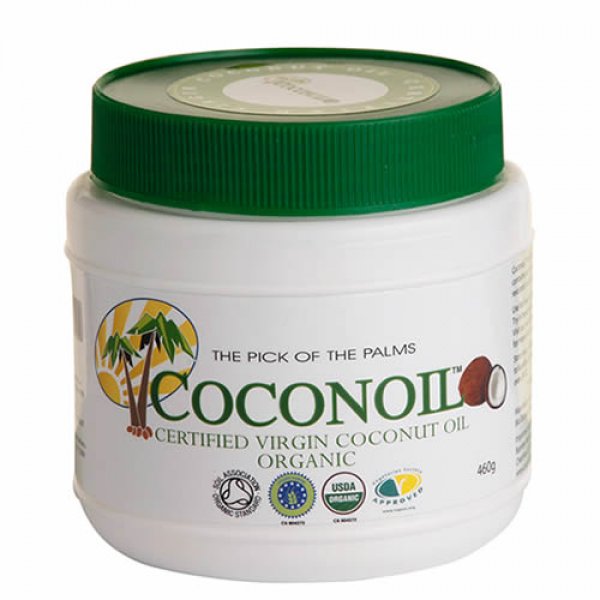 Coconut oil is fast gaining popularity - Gwyneth Paltrow smothers herself in the stuff; Jennifer Aniston was recently seen with a shopping trolley full of it; Angelina Jolie eats spoonfuls for breakfast; and Miranda Kerr calls it her "beauty secret", consuming four tablespoons a day on salads, in her cooking, and stirring it into her green tea.
Once dismissed by the World Health Organisation as unhealthy due to its high levels of saturated fat, scientists have now proved that it's not the same as saturated fats found in vegetable oils, and its natural fats are in fact good for the heart as well as cholesterol levels. Mostly this was evident when they studied inhabitants of the South Pacific, whose diet is largely based on coconuts and coconut oil, but among whom heart disease is virtually non-existent. It can also aid and improve the digestive system,

preventing various stomach and digestion related problems, including IBS. AND it helps in the body's absorption of other nutrients such as vitamins, minerals

and amino acid

s. AND it's been proven to aid weight loss.
OH and it gets rid of those little bumps you sometimes get on the backs of your arms. There's a name for that isn't there? You'll have to look that up yourself. I've done enough Googling today.
But frankly though, I'd eat pretty much anything that Miss Kerr called her beauty secret, wouldn't you?
Top tip: you may want to buy two jars and keep one on the kitchen, and one in the bathroom. Or seperate the contents of one jar. Basically find a hygienic way to not be cooking with the oil you've just double dipped when spreading onto your bumpy arms. OK?
So I've decided to start using coconut oil in my cooking wherever possible, especially if the dish actually requires a coconut taste. The taste is subtle, however, so I will try it in others also.
Spicy Lentil and Coconut Soup
(4 portions)
1 heaped tsp organic coconut oil
1 medium onion, finely chopped
2 cloves of garlic, minced
200g red lentils, rinsed
2 tsp garam masala
2 tsp cumin seeds
ground chilli flakes
1 litre organic vegetable stock
250ml carton coconut cream
1. Heat the coconut oil in a large saucepan, over a medium heat.
2. Add the onion and garlic, reduce the heat and soften slowly and gently for 8-10 minutes. Be patient - slower cooking will release the sweetness of the onion, adding a depth of flavour to your soup.
3. Now add the spices and stir for less than a minute. before adding the lentils. Stir well to coat the lentils in all the flavours. It will smell great at this point!
4. Pour in 750ml of the vegetable stock, bring it up to the boil, then reduce the heat and leave to simmer for 10-12 minutes, until the lentils are soft. Check halfway through as you may need to add a little more liquid.
5. Empty the contents of the coconut cream into a separate bowl, as it will have split into solid cream and watery liquid. Add half of the cream to the soup and a little of the coconut water.
6. Turn off the heat, and leave to cool a little before blitzing in the pan with a hand held blender.
7. Depending on the consistency that you like your soup, stir in a little more stock until you get it just right.
Do you have any great ideas for using coconut oil? I'd love to know!